Outlets in Newton, NC 28658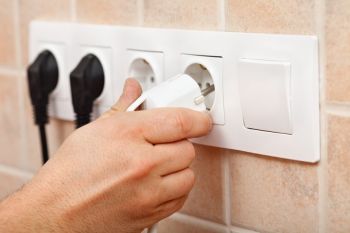 Are you noticing sparks or that your Newton outlets are overheating? Have outlets in your home or office become unsecured? Usually mounted on a wall or floor, outlets are supplying electricity through a cord or plug to lights, lamps, televisions, appliances, and more. With time and use, these connections can become loose and hazardous. In order to maintain the functionality of your home or office, it's important that the electricity is operating properly and efficiently. With thousands of electrical connections in your Newton home or office, it can be dangerous to tackle electrical outlet installations or outlet repairs alone.
Electrical Outlets in Newton, North Carolina
As the leading electrician for electrical outlets Newton, North Carolina since 1997, our experienced, licensed team can assist you with installing or replacing Newton electrical outlets and receptacles in your home or commercial building. Tri-City Electric's qualified electricians can install new Newton outlets, move existing outlet locations in Newton, replace existing Newton outlets, repair faulty outlets in Newton, and much more. Tri-City Electric has over 20 years of experience replacing, installing and repairing outlets in the walls and floors of your Newton home and business.
Tri-City Electric offers a wide range of services for your outlets in Newton, including:
Electrical outlets
Electrical plugs
Electrical sockets
GFCI (Ground Fault Circuit Interrupter) outlets
Outlet installation
Outlet replacement
Outlet repair
Indoor outlets
Outdoor outlets
Wall outlets
Floor outlets
Outlet grounding
Need New Newton Outlets? Need More Newton Outlets?
For over 20 years, Tri-City Electric has consistently followed local electrical codes and the National Electrical Code. Whether installing new Newton outlets, or moving existing Newton outlets, Tri-City Electric knows the electrical receptacle height and restrictions to determine the proper locations in the intervals of your home or office as well as determining the spacing between each of your outlets in Newton.
Do Your Newton Need to be Replaced or Repaired?
If your home or office has old or unsecured wiring, faulty electrical devices, overloading or were not installed properly the first time, Tri-City Electric can repair your existing Newton outlets in no time. Don't wait until sparks fly or your outlets in Newton become faulty. Call the experienced electrician in Newton for our outlets and receptacles. Call (828) 295-2938 for a free quote!
---
WHAT CUSTOMERS ARE SAYING:
5★★★★★ - "I have used Tri-City Electric for years. They are the best in town. Always dependable and very knowledgeable. I would recommend them to everyone."
Eleanor in Newton, NC
---
5★★★★★ - "These guys are great, always friendly and very knowledgeable. The only electricians that I would use and I have recommended to my family and friends."
Blake in Newton, NC
---
5★★★★★ - "We hired Tri-City to relocate a router in our home. Chad and Jason arrived right on time after a courtesy call notifying me that we were their next appointment and they would be arriving in about 20 minutes. They completed the work quickly and neatly. They were very professional. We are pleased with their service."
Robin in Mountain View, NC
---
5★★★★★ - "I called Tri-City to clear a couple of items on a home inspection report punch list. Not a big job at all, but they worked me into their schedule quickly and did a professional job. Chad and Jason are real pros! I will use them again if I have a need."
Walt Von Miller in Hickory, NC
---
Call for FREE Outlets Quote
Dial Area Code first please.
---